UniverCell Chennai IndiBlogger Meet #indichn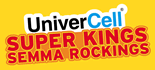 When & Where?
Location: Chennai
Saturday March 20, 2010 - 2:30 PM to 6:00 PM
---
The Venue
GRT Convention Center
120, Sir Thyagaraya Road,
T. Nagar, Chennai - 600 017
Landmark: Next to GRT Grand Days
---
1500 bloggers in Chennai! That is one league bigger than the IPL- Chennai Super Bloggers, we are finally meeting again! Please post your ideas for the agenda - anything in particular you all would like to discuss?
If you have any questions on the meet, call the IndiBlogger office at +91 44 45018949.
---
Agenda
| | | |
| --- | --- | --- |
| | Item | By |
| 1. | Welcome | IndiBlogger Team |
| 2. | Message from the sponsor | UniverCell |
| 3. | 30 seconds of fame | Bloggers |
| 4. | Live & let comment | Bloggers |
| 5. | Traditional Media and Blogging | Journalists and Bloggers |
| 6. | Formation of Chennai Bloggers Club | Bloggers |
| 7. | Mingling session / High Tea | Bloggers |
| 8. | Special Announcement | IndiBlogger and UniverCell |
| 9. | IndiBlogger Forum: Open discussion | Bloggers |
| 10. | Head home and keep blogging! | Bloggers, Auto Drivers, etc. |
Reviews on UniverCell Chennai IndiBlogger Meet