"No child in India shall be deprived of education because of hunger."
The Akshaya Patra Foundation is the largest non-profit organisation in the world to implement the school meal programme. What started in Bangalore 10 years ago as a pilot programme has now expanded to 18 locations across 8 states in India to feed over 1.2 million children today.
The Winners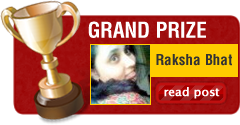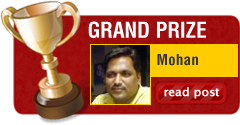 Surprise Prizes:


Akshaya Patra thanks all of you who participated and helped support our cause. Choosing the winners was not easy considering the quality of entries - the children of India will not forget what you did for them.
Your blog can help feed 50 children now.
Read about The Akshaya Patra foundation here.
Blog about their cause and urge your readers to support it. Give them the link to make a donation online.
For every valid blog post, Akshaya Patra will be able to feed 50 children.
P.S: You can follow Akshaya Patra on Facebook, Twitter and via their newsletter.