Blog review
A personal Blog. I do write about technology, especially Linux and open source then mind and thoughts. most of the time just thoughts, it can be a valid piece of information at times too.
Edited 10 years ago
Reason: change in blog area
Replies 1 to 5 of 5
What a beautiful blog. Excellent researchful posts. Knowledgeable, worth visit. , Kya sitam hai ke tere hasin shehar mein, Har taraf gaur se dekhna jurm hai., Loved the lines.
Thank you very much for the visit and review Pramodji, such comments can motivate anyone to write more.
BTW that was not my lines :-)
I know, but touched a chord,
i was just confirming and agree completely, so touching indeed.

just a tail end, I really appreciate the efforts you are putting forward in this forum, commentable dedication i must say

My First Blog Review on Indiblogger after 6 months of being a member. I like the site but what i like the most is the message it is spreading. India is a big and developing country, and the FOSS can really help it bring the IT costs down. Today mostly all FOSS are as competent as their paid counterparts. If we focus on the open source technology in all fields not only computers, the will be a much better place.
Coming to your blog format. What i consider a good blog format is a Wide post reading are, single sidebar, white background and minimum necessary widgets. You have mostly all the above things. So altogether a exellent blog on a exellent topic. Keep up the good work a make FOSS movement proud.

LOL, its really ROFLing to see how two people differ on the same blog

u guys missed the writer part completely :-D please check the FUN category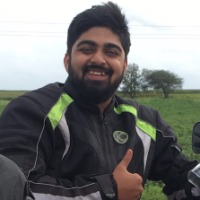 Hemal Shah
from Mumbai
10 years ago
So your wish is granted!

Here are my two cents.
I agree with Animesh's suggestions above.
Pardon my "hate" for the font, Arial. I dont know, I never liked it.
I see consistancy on font face as a problem.
Theme is pretty spaced out, but I think a change in Font can do wonders. See 2nd point why?
Alignment is not propely done, attention to detail would be great. Case in point, advertisments running on side bar, Indi-llectual logo etc.
Grey space above tags and below posts is taking considerable amount of space. Get rid of it or put that space to some use.
മലയലം ബ്ലൊഗില്ല് അക്ശരം വലര് ചെരുതാ. നന്നയി വയിക്യണ് പട്ടുന്നില.
Reply button on മലയാളം ബ്ലോഗ്‌ isnt working correctly.
Thats is it for now.
Keep Blogging!
thanks dude, the ad is not a permanant idea thats why i never spent time aligning it, i was just checking the widget, will change soon, Arial is not a choice for me either, i have the excuse of my laziness in changing it. Will increase the size of font in malayalam, i agree that its small. and the reply button has to be attended as u rightly pointed out, a bit of template editing needed, will do it soon. thanks again :-)
---