Am i missing something ???
MedhaChaitanya
from Vijayawada
6 years ago
Targeted at improving one's LIFE through feelings, motivation, technology, friends...
Very general and everyday situations that happen in our life...
Need a review. Want to know how successful I am... Thank you :)
Edited 6 years ago
Reason: casual edit
Replies 1 to 1 of 1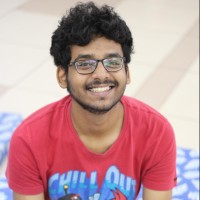 Mischief Manager
from Gandhinagar
6 years ago
Hello Fellow blogger. :) First look of the blog is great. It sort of creates the interest in the reader to red more of your posts. (atleast it did to me)Your writing is also good. Few mis matches here and there but they can be over looked. One thing I noticed is that you do not have the followers widget. I recommend that to you. It is a must widget for a blogger as it helps build a blogger network around.Also, a necesary widget would be the "Follow by Email" widget. It allows the reader to know as soon as you put up a new post.
Keep blogging. :)P.S. If you are freee, you could review my blog here sometime. :)
Thank you so much for your suggestions. I've now added those widgets that you've recommended.
Your blog is cool...:)
"Poetic fight" AWESOME...
Any more suggestions are greatly accepted.... :)
---