Due to my constant craving for attention, I ask for yours. For a newbie!
My blog has been recently been brought back from the dead. During its earlier days, it consisted of my lame poetry. But the recent ressurection sees it exploring the life of its alien author on earth, through her alien eyes and of course..lame poetry.
Edited 7 years ago
Reason: I crossed the word limit. Half words don't look good.
Replies 1 to 3 of 3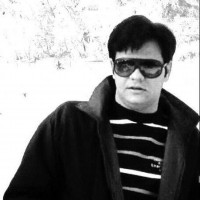 Himanshu Nagpal
from Delhi
7 years ago
I liked your poems and the theme of your blog. Good to know that you started writing again, I can wait until Thursday ;)
Keep writing.
Cheers!
Himanshu Nagpal | Being Traveler
Hey Himanshu! Thank you so much :)I'm glad you like the theme and the poems. This definitely gives me encourage to stick to the schedule and keep writing.
:D
Your blog has an aquarium. You're the Steve Jobs of blog decoration. I just might hire you for mine. Mine looks like it had a fire-hazard. Your blog has unpretentious poetry full of love and condescending care for friends. Truly radical trait because to say you care only at the price of their dignity is what friendship is all about. Your overuse of the acronym YOLO and adherence to badass lingo to assert your indifference has earned you a reader. Me (since you're a Delhi girl, one can never be too obvious - I'm implying you're all snobby showoffs who only understand blatancy).
Oh, also, in reference to your 'My Precious' article, Bruce Wayne is actually a Billionaire, but he's less rich than Scrooge McDuck (I read somewhere). Keep writing. This review comes at the price you you checking my blog sometime, maybe? Because, YOLO, bi'ch!http://jestaccolades.tumblr.com/
I fail to understand how you do not understand the obvious sarcasm, since you seem to be so well off with it. And very obviously, you have some stereoptypical image of Delhi girls.
By all means, correct me if I'm wrong.
I do not endorse the use of acronyms such as YOLO and and it is written in a manner so as to make fun of the trend. Obviously, it doesn't seem to be that obvious, I shall take care in the future.
Thanks for your time for the review. :)
A Delhi girl broke my heart, bro. I have sworn vengence since on ALL Delhi girls. Just being rational, ok?
Justified. You may proceed.
---