Looking forward to your feedback on my new blog
Hey there,
This is my new blog on wordpress.com.Would love to hear your comments on my postings -poems, random writings and soon to be posted short stories.
Thanks, Gee
Replies 1 to 5 of 5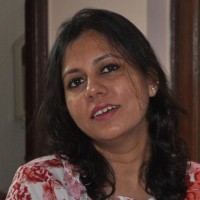 Shilpa Garg
from Jaipur
13 years ago
A good beginning!
All the very best!
Thanks Shilpa.I have been blogging for 3 years now (in hindi ) but now thought of connecting with fellow bloggers with my new english blog.
I went and checked out yours and I must say you have a very nice blog indeed:)
Cheers,Gee
Sonya,
When I first opened your blog WOW !!! was my reaction at the header image and then read the articles which where nothing less and you have so many posts in such a small number of days ... sure you have a lot to say....
Its a journey which I'll certainly would want to be part of
...
BTW I am a relatively new blogger just 3.5 mths old so I don't have enough gyan on technicalities but one thing I noticed which puzzled me a bit is You have a "Indiblogger" widget which is exactly same as "Links" widget and Your Blogroll is empty I mean no blogs ... You must be following some blogs ....since you have been blogging in Hindi for sometime now...I think you can put that blog link there so people can jump into that one as well...
Keep posting ...
Cheers
Dear Dhiman,
Thank you for your feedback and valuable inputs.I have moved blogs from blogposts to wordpress for englsih blog, so that's how I have so much to say in a short time :).I have started networking now as earlier,I used the blog as a journal entry for my poems and short stories but I guess, more you share, more you learn and improvise, so here I am :)
"Indiblogger" widget which is exactly same as "Links" widget as earlier I couldnt figure out how to configure it and learnt it by doing some r & D on wordpress ,will amend that now.My Blogroll is empty -will fill it up soon, thanks for pointing that out,I would correct it.
Look forward for your return on the blog again:)
Cheers,Gee
Dear Samir,
Thank you for the feedback, will surely look into widgets and audio play of the poems.
Keep cpoming back.Will definitely check out your blog.
Cheers,Gee
---