Looking for Feedback on My New Blog Featuring Satirical Song Reviews
My blog takes a tongue-in-cheek approach and dissects songs. I spare nothing: music, lyrics, choreography, storyline, actors, clothes. The blog is divided into two parts so far: a) Throwback Review: featuring classic disasters and b) Hot Off The Racks: featuring the newer crap.
Do take a look and give me shout out in case it makes you LOL. For real. Do read. If only to read! :D Thanks in advance!
Replies 1 to 2 of 2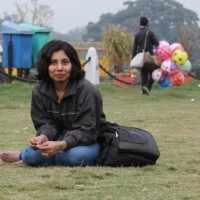 Datta Ghosh
from Kolkata, Gurgaon
8 years ago
Not much of a technical person but the layout was neat. The topic is quiet uncommon, sattire is just the right and it evokes humour, i was smiling through the entire blog, This blog is something unique with repect to the subjet chosen. Yes it made me LOL from the inside and yes i remember "Javed Bhai So Rele The" from Jaani Dushman sadde Arman Kohli the hissing angry not so young snake and "I am so ever turned on" Sonu Nigam. The clips were appropriately used and added to the humour. Well written, well presented.

Thank you so much for your inputs.

Yes, I wanted it to remain clean so that the focus remains on the post and not distracting elements around. Also, limited design options on Wordpress ;) Yes, it was indeed an epic song! And an even more epic movie! :D
Thank you again!

Hi Aldeena,
Nice work. Your blog is definitely not in my list of blogs to ignore.
Since your work has tendency to go viral, why not nudge the readers in the direction of your most popular post by having popular post section. You may get a following if you also give your readers access to subscribe via feed burner.
I like your work dude, any day is a better day when you get to celebrate bal diwas with akshya kumar.
I am sure you must be getting invited to loads of drinking party only for you to ask people, "do you know Aayega aayega gaane mein aayega kitni baar aaayega?
Cheers
Hi Sneh,
Thank you so much. Yes, your suggestion is brilliant. I have added it now. Thank you!

Hope to see you around on the blog! :D I hope it is on the list of blogs to follow!Aaayega is epic shit! Yes! And also 'Aaja...' from Jaani Dushman. Work on the same lines! Superb shit!Thank you so much again for the insightful comments! Cheers!
---