Looking for feedback on my new blog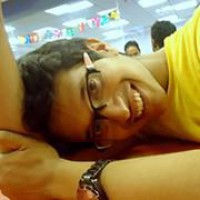 Amit Ghosh
from Kolkata
6 years ago
Indeed it was a confusing journey. From turning down 1.4 million USD from an UK firm for my startup and begging everyone for 2000$ for every person in the earth you know. It was in short crazy. There were tons of mistakes but it wasn't a lonely journey. I am living the best moments of my life. Sleeping in the benches of college to booking a five star hotel's room for a month just for having bath. Hell! It's fun, that's why I do it and I believe I am quite lucky for choosing this insanity.
People say, there are no jobs and employers said there are no good candidates. So its pretty simple. You want to earn money? Just do one thing you love the most, the world will beg you but I know it's hard for the first few months. Depressing like never before. When you first see the money; you'll see, its all about how you enjoy doing it. I loved this work so much that he dropped out of his college in his final semester to give full time.  I stems from Kolkata, India, and will be happy to speak to you in English, Bengali, Hindi or PHP.
When I'm off my laptop and smartphone I do appreciate slow food and good wine.
FUN FACT
 I love dogs. I have a good Alsatian, half cracked Pomeranian and a full cracked Pomeranian
I earn hell more in forex, about 600$ per hour. But it has too much pressure that I feel to forget this hell.
My mom thinks I sell some drugs and he is unsure that how money comes in bank account in something I do with computer.