Please review my Creative Writing Blog Vikram Karve
from Pune
13 years ago
<!-- /* Style Definitions */ p.MsoNormal, li.MsoNormal, div.MsoNormal {mso-style-parent:""; margin:0cm; margin-bottom:.0001pt; mso-pagination:widow-orphan; font-size:12.0pt; font-family:"Times New Roman"; mso-fareast-font-family:"Times New Roman";} a:link, span.MsoHyperlink {color:#1F4EE6; text-decoration:underline; text-underline:single;} a:visited, span.MsoHyperlinkFollowed {color:purple; text-decoration:underline; text-underline:single;} @page Section1 {size:612.0pt 792.0pt; margin:72.0pt 90.0pt 72.0pt 90.0pt; mso-header-margin:36.0pt; mso-footer-margin:36.0pt; mso-paper-source:0;} div.Section1 {page:Section1;} -->
Vikram Karve, 52, educated at IIT Delhi, ITBHU and The Lawrence School Lovedale, is an Electronics and Communications Engineer by profession, a Teacher by vocation, a Creative Writer by inclination and a Foodie by passion.
An avid blogger, he has written a number of fiction short stories and creative non-fiction articles in magazines and journals for many years before the advent of blogging.
His delicious foodie blogs have been compiled in a book "Appetite for a Stroll". Appetite for a Stroll
Vikram lives in Pune with his family and pet Doberman girl Sherry, with whom he takes long walks thinking creative thoughts.
Replies 1 to 3 of 3
nice blog
thanks for sharing story of moti and a family discussion which is happening now a days in every home.
i was not able to write a comment there as i am not member there
but i like your blog ,content . Vikram Karve
from Pune
13 years ago
Thanks, sm. I am glad you liked my blog.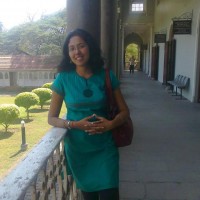 Deboshree Bhattacharjee
from New Delhi
12 years ago
For some reason I am never able to comment on your blog from office. Sometimes it submits, at other times tapers off.
I just read your Valentine's story. Such a wonderful write up! Loved everything about it - the narration, the plot and the build. Kudos! :)
---