Please review my blog
I am a novice at blogging. i started the blog after my friends wanted me share with them my skills in arts and crafts, about my country India, my culture my way of living and so on.
I want to share my knowledge in arts, crafts, embroidery, cooking gardening, about my country my culture and know about other cultures, people life styles and also earn about various arts and crafts.
Please review my blog and give me your feed back; especially criticisms, suggestions and your comments, so that I can improve myself and reach out to more and more people.
Replies 1 to 10 of 10
good blog
if possible reduce the size of header image
lots of information .
Thank you sm. You are correct my header seems too loud. LOL! Will reduce the size. Thanks a lot. I liked your blog too...
"Subscribe to feed" links are at the bottom of the page. Try to move it to the top, which could really get more readers for your blog.
Friends Thank you so much for your valuable suggestions. I am grateful to you.
Karthik Your blogs are great. Though I dont know much about the technical aspects of blogging or computers, I like yours.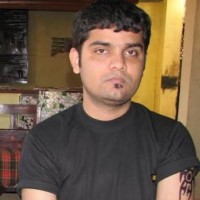 Sayed Khadri
from Bangalore
13 years ago
Reduce the size of header and fonts, rest of all is perfect..
keep blogging :) Narrenaditya
from Hyderabad
13 years ago
You really have designed a very colorful blog with a more colorful content..Sankranthi muggulu choostunnattuga vundi..keep it up and keep posting..
Thank you Syedji and Naren ji. All your comments are motivation for me...Thanks a lot once again
Thank you Shravan. I am a working person. So I get very little time to post. I have got lots of themes lined up. My main problem is time and then sizing(cropping and compressing) and water marking my photos.
I dont get royalty free photographs (for free) to match my content. I am apprehensive of using photots from other sites as I am not fully aware of the copy right issues. So I have to depend upon my own photos.
Any suggesstions for this?
Yes I have to reduce the header and text size. May be when I get a break this week. I will do it
Blog layout and composition is excellent. I haven't gone through yours posts yet but the moment I opened your blog, it has a catchy effect. It truly shows your artistic talent! Keep it up!!
---