Excavating the Indian in you
It's all about us .So,please be completely frank in this part! We bloggers rock!!!
cheers,
sai bala
Replies 1 to 5 of 5
Hi sai bala ..Your blog simply rocks for me.. The overall template is awesome .. very well organised .. but the widgets down the screen can be moved to some other location ..Regarding content .. I can understand your concerns for present state of our nation .. your thoughts on various topics was food for thought.
I must confess it's truly enlightening experience of knowing India and the obstacles that hinder it's progress .We all should unite n work together for the prosperity of our nation..
Keep up the good work buddy .. Keep them coming ..
cheers
Vamsi
Hi Vamsi! Thanks for offering your time and thought for my blog.Indeed I'm very happy to realise that I contribute something to this blogging world and of course to our nation! It's hard to kindle the feeling of togetherness in a nation filled with a multitude of cultures and beliefs.But you and I know how good it is to be together and united despite our social differences.India has the potential and it lies in our hands !
"Your review is my strength"
cheers,
sai Zainab Urooj
from Bangalore
11 years ago
I loved the layout and ofcourse the content
Thanks,Zainab! Keep throwing your visits for more interesting posts!!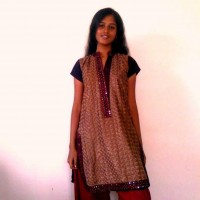 Swetha
from Coimbatore
11 years ago
Great blog! Ur writing is worth taking notice. The widgets take up too much space though.. Try organizing them in a single column...
Good job, keep going..
regards,
Swe.
Thank you,swe! I wil look into the widgets part so that its well organized!
hey abhimanyu! Thanks for commenting! :) Only your comments can keep my blog rolling!!
---