Write an article on Wikipedia!
Hi everyone,
I am Netha Hussain, a blogger and an editor on Wikipedia.
You all might know that anybody can write on Wikipedia. Writing on Wikipedia is very much like blogging, only that you should not write with commercial interest. In a survey conducted in 2011, it was found that only 9 percent of all articles on Wikipedia are written by women. To increase the number of articles about Indian women in Wikipedia and to get more Indian women participate in writing articles on Wikipedia, the Wikimedia volunteers are running Women's History Month events in March. Click here to find out more about the event. You can join by writing articles on Wikipedia, blogging about the event on Wikimedia global blog (and other blogs), and leading edit-a-thons! Here is a list of Indian women about whom articles do not exist, or too few details exist. If you are a new contributor to Wikipedia, this is the perfect time to get started. Feel free to get in touch with me to know more details!
In writing on Wikipedia, you will be able to get in touch and network with the global writing community. Let the wiki-party begin!
Replies 1 to 2 of 2
@ Netha The second link you posted is not working. ( Known bug on IB ) Instead of hyperlinking it ( example link ), post the URL as text ( www.example.com )

Thank you for pointing this out, Ranjith! Here is the link : https://en.wikipedia.org/wiki/Wikipedia:Meetup/International_Women%27s_Day,_India/2014
I hope everyone will pitch in, write articles on Wikipedia about notable women, and blog about it!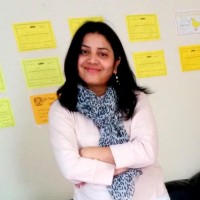 Uma Maheswari Anandane
from Karaikal


6 years ago
@Netha
It is a very good intiative and something I wanted to discuss as well (for a long time though). Having written an article in Wikipedia, I learnt that writing about some notable persons esp. those belonging to 50s or 60s in Wikipedia is not that easy. To be published and available in their website, one needs to have enough proof including internal and external links. They don't necessarily look out for hard copies say an books written by notable author in the 50's or famous artists in 60's. The final reviewer will need links as proof. At this stage, there is a check. Hope you are having required proofs!
Thank you for writing articles on Wikipedia, Uma Maheswari! It is hard to establish notability of people who were active in the 50's and 60's because of lack on online coverage. These articles are being written with citations from printed books and newspapers. To offset the difficulty of gathering print books for writing Wikipedia articles, Wikipedia has introduced GLAM (Galleries, Libraries, Archives, Museums) partnerships with various libraries and databases across the globe. The resources from these institutes could be used for writing articles on Wikipedia. In exchange, the institute will be recognized as a GLAM partner of the Wikimedia Foundation, and their collection will get popularity. Read more about GLAM initiatives here: https://en.wikipedia.org/wiki/Wikipedia:GLAM
We would be very delighted if you could join us during the Women's History Month to write articles about notable women. You could sign up for the event on the project page, write articles and list the results under the 'Results' section of the same page. WikiLoves!
---
Sign in to reply to this thread