IndiBloggers! How Many Superheroes do You Have Within Yourself?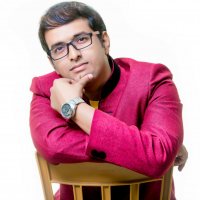 Sourav Ghosh
from Midnapur


11 years ago
Little did I know, when I had written a post of the same title (Except the 'IndiBloggers!' part) in my blog today, it would drastically change my blogging experience. It all started with a few visits from IndiBloggers, then my close twitter/facebook/orkut friends, and then it touched maximum page visits till date. But I got some response which is much more than page visits. Like
"Thanks @AaronLivingston for introducing me to@souravghosh! http://disq.us/dn95z - made me grin and brought tears! Wow!-THIS positive at 22?" from Tsubee
So I want to share the main theme of the post with you all here.
We all have Superpowers within ourself, like everybody in this universe. Either we haven't yet discovered it or we are afraid to admit it.
We can be a super parent/super son/super partner/super boss and may be a super blogger! And we can make a difference to many lives.
I identified my superpowers are
My Words
My Patience
My Dreams
My Values
My Networking Capabilities
What are yours?
Just imagine a world, where everyone of us are living upto our best potential, and making difference, how wonderful this world would be. That would be a Super World I think. If you think, I dream and imagine too much. Yes! And I believe in my dreams, I will do anything and everything in my life to make this dream a reality. Question is are you with me?
Replies 1 to 2 of 2
I'm a super hero in defining myself!! Nothing personal, just truths!!
i didn't read the forum..i apologize..but can't we have the truth n dare game here? have seen it in plenty of forums..n orkut communities..should be fun!
My super power....aaa.... unnn.....hmmmm........ yaaa i can blog and can make people laugh and feel sucked at the same time
---
Sign in to reply to this thread