I want to sell my blog - Can IndiBlogger help me?
Guys,
I am planning to sell of my blog - Dhakkanz. All the subdomains would be sold off with this domain.
My blog currently has 160+ subscribers and one of the Sudomain (Excel Matic) is a PR1 blog.
Can anyone on IndiBlogger (or IndiBlogger) help me in this?
All suggestions are welcome.
Edited 7 years ago
Reason: Added hyperlinks
Replies 1 to 4 of 4
Is that what you wanted to change the theme for? You seem to have bought the domain this year itself. Why do you want to sell it? What's the asking price?
Yeah Gouri,
This is the same blog for which I wanted to change the theme.
Actually I've been thinking about selling this blog since some time now. I am not able to do justice to my blog by not being able to spend enough quality time on it. So, am planning to sell it. I have not put it on 'Sale' anywhere, so I do not know about what worth is this blog.
Do you know of any one who would be interested in buying this domain?
Rishie, you can try your luck in some of the domain buy/sell forums. Unless the domain is a premium one, most of the buyers will look for PR/monthly revenue/monthly visitors or at least the age of the domain.
Ask yourself a simple question: Should I renew the registration this December?
That may help you decide whether you should wait for a 'good offer' or 'get rid of it' for whatever comes your way... All the best!!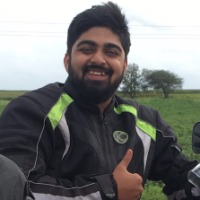 Hemal Shah
from Mumbai


7 years ago
Is yours a self hosted blog or wordpress hosted blog?
Hemal it is a self hosted blog using Wordpress application. Please see (by visiting) the link given.
---
Sign in to reply to this thread