AMITABH BACHCHAN Read & Commented On My Blog - UnBeLieVaBLe !!!
Today, Amitabh Bachchan complimented me for my blogs. Yes my dear friends, The Greatest Superstar, Star of the Millennium, The Angry Young Man, The Shahenshah of Bollywood - Great Amitabh Bachchan himself commented on my blog. I was unable to believe and I literally blinked my eyes for several times to believe that the Tweet sent to me was really from the Real Amitabh Bachchan. The same Amitabh Bachchan who is loved by all and all Indians. Everyone wants to meet Amitabh Bachchan in their life and want to be blessed by him. Many people send him letters from the time he started acting so that they can get a reply in return. But very few are lucky to have this. Many people registers their name for KBC just to meet Amitabh Bachchan and not to win 1 crore. Every Sunday, Amitabh Bachchan meet his fans at the entrance of Prateeksha. People can just wave their hands to Amitabh Bachchan but no one get the chance to talk to him personally. This is the craze among people to get into a conversation with Amitabh Bachchan. We have seen the phone calls on KBC when people get chance to talk to Amitabh Bachchan because of a lifeline, they go mad just by hearing Big B's voice and they start dithering. Today, I saw Amitabh Bachchan is online on twitter and he is busy tweeting. I thought lets try my luck once again and lets see whether Amitabh Bachchan will reply me today or a day will pass like all the days before. I always write some lines on KBC Blog so that Big B will read my lines of KBC and hence I'll get a chance to deliver my message to him indirectly. But luckily I got a reply from Amitabh Bachchan asking for my Blog ID so that he can read my blog. I replied him with my Blog Address but I had a feeling that will a busy superstar like Amitabh Bachchan will go on my blog and really read it, so I asked him to Wish me luck for my future. And after this, He opened my Blog page. Yes, The great Big B opened my small blog page called ARB. He read the 331st blog where I have mentioned about the comment of Chetan Bhagat and Tanveer Singh. After this, he messaged me again with a COMPLIMENT. This is the biggest compliment ever to me by anybody. It is not the best but still it is the best as great Amitabh Bachchan said it to me specially. And can you believe this what Big B is saying to me? He is saying that My blog page is better than his. And he said that I have done well with my writing. He also said that I have a great design for my blog. Can you ever believe Mr. Bachchan talking to a small blogger like me in such a humble manner? He is proclaiming that my Blog Page is better than his. Who can say like this? No one. Even I can't say this to anyone but Mr. Bachchan has. He is really a Bigg Boss - Bigg B.
Replies 1 to 9 of 9
Abhilash, First of all congrats for good work,
You have copied your whole article here, it is not necessory and spoils the show. A link to your indivine post is sufficient. People will certainly visit your blog and read the article. So consider editing.
ohh ... ok sir.. I didnt knew about it.. Actually I dont have much knowledge abt how Indiblogger works.. So I did this.. but thanks for promoting myblog and loving it..
Its all luck bro.. Even I am surprised till now..
dont get too surprised dude...
even i commented on Amitji's blog!! so what if he hasn't give me any response!!!
Its not about that.... He opened my blog, read it... Thats the surprise.. And his compliment... The day it will happen to you, you will understand..
Hey bro.. its not lyk that yaar..... I respect every1's comment.. See, I have replied to your comment too on my blog post.... And thanks for being so selfless in liking my posts.... and I saw ur blog too.. its quite informative.. great work... abhishek khanna
from Delhi


11 years ago
someday even i will comment on your blog :P :P :P
No its not necessary.. Do only if u like it.. And indirectly you have commented on my blog post.. Micky Fernandez
from Kolkata


9 years ago
Which blog? According to your profile, you have several.
Which post?
Now, your next goal is to get Rajnikanth to comment on your blog.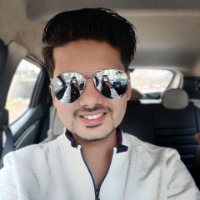 Abhilash Ruhela
from Navi Mumbai


9 years ago
Hahahaha.... :-) See his comments in tab named "Celebrity Reviews" on my blog page. you will find it there.
---
Sign in to reply to this thread